Dentist San Diego, Pacific Beach, Mission Beach
CALL US AT (858) 270-6626
What is a crown?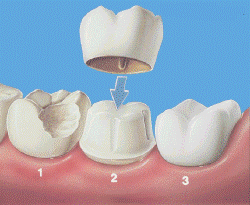 A crown is a complete restoration for the visible portion of the tooth and is sometimes referred to as a "cap".
Dr. Aryan, Pacific Beach Dentists, San Diego Dentist typically uses crowns  made from porcelain, the same material used for veneers. Crowns, like veneers, can also be color matched to create a natural appearance once the restoration is complete.
Call Dr. Aryan, San Diego dentist now to set up an appointment to get a crown.