Dentist San Diego, Pacific Beach, Mission Beach
CALL US AT (858) 270-6626
Porcelain Veneers San Diego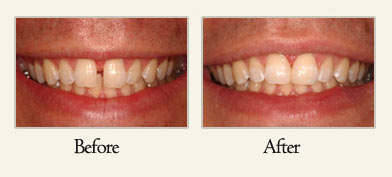 A porcelain veneer can be an excellent way to make a cosmetic change to a tooth. As compared to dental bonding, porcelain veneers usually look more natural and they resist staining well.
See pictures of porcelain veneers dental work done by San Diego Dentist.
Veneers are thin shells of material that are bonded onto the surface of your teeth. Porcelain is frequently used due to its strength, durability, resistance to staining, ease of color matching and natural appearance.
Veneers are perfect for you if stained, chipped, or crooked teeth detract from your smile. Dental veneers are thin shells of highly stain-resistant porcelain that are attached to the front surfaces of your teeth, creating a natural looking smile.
Dental veneers (sometimes called porcelain veneers or dental porcelain laminates) are wafer-thin, custom-made shells of tooth-colored materials designed by Top San Diego Dentist to cover the front surface of teeth to improve your appearance. These shells are bonded to the front of the teeth changing their color, shape, size, or length.
Many Other Applications & Benefits:
·  Repairs Chipped & Gapped Teeth
·  Natural Looking Color
·  Strong & Long-Lasting
Just A Few Simple Steps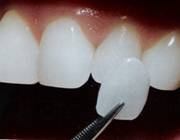 Getting a dental veneer usually requires three trips to the San Diego Dentist – one for a consultation and two to make and apply the veneers. One tooth or many teeth can simultaneously undergo the veneering process.
How  Dr. Aryan, San Diego Dentist applies porcelain veneers
Veneers are applied to the teeth in 2 visits at the San Diego Dentist:
Visit # 1 Veneer Preparation: The teeth are prepared by San Diego Dentist by removing 0.3 to 0.5 mm of enamel (the thickness of a fingernail) to allow room for the veneer layer. An impression of the teeth is taken and sent to the specialized dental laboratory that will create the veneers. In about one to two weeks, your veneers will be completed and ready to be attached.
Visit #2 Veneer Bonding: Bonding involves all the steps that permanently attach the veneer to the tooth. After a cleaning of the tooth, the veneer is bonded to the tooth with a special dental cement. This dental cement is then hardened with a blue curing light.
At the dental office in Pacific Beach, San Diego, Dr. Aryan will carefully bond the veneers to your teeth, and you will leave our office with a gleaming new smile.
See pictures of porcelain veneers applied by San Diego Dentist.
Call  San Diego dentists now to set up an appointment for your porcelain veneers.