Dentist San Diego, Pacific Beach, Mission Beach
CALL US AT (858) 270-6626
Orthodontic Aligners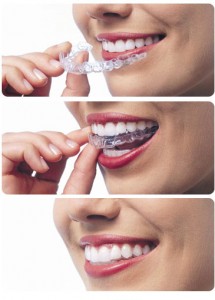 Orthodontic aligners offer straighter teeth without having to wear bulky metal braces.
Using plastic molds and computer simulation, Dr. Aryan, San Diego dentist at Pacific Beach, will be able to custom design a series of aligners to guide your teeth into their ideal position.
Each aligner will be worn for two weeks, to be removed only for meals and teeth cleaning. At the end of this two-week period, your existing aligner will be replaced by a new one, and the cycle will continue until you have the smile you wanted. The entire process requires about the same amount of time as traditional braces.
See more information about clear Invisalign aligners here.
Call  San Diego Dentists at 858-270-6626 now to set up an appointment for orthodontic aligners.