Dentist San Diego, Pacific Beach, Mission Beach
CALL US AT (858) 270-6626
Dental Implants San Diego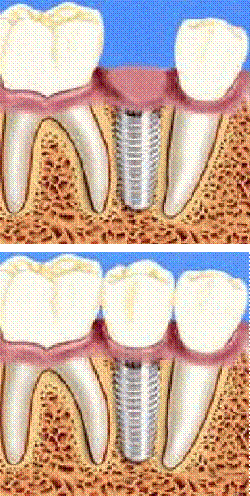 What are dental implants?
A dental implant is a metal post, typically made of titanium,that is surgically inserted into the jawbone to serve as an artificial root. Once the dental implant is in place it can serve as a structure from which to affix crowns, partial dentures or full dentures.
When are implants used?
Dr. Aryan recommends dental implants as a great way to provide a sound structure to hold crowns and full or partial dentures in place. A dental implant will simulate bone growth thereby keeping your jaw strong and healthy and does not affect the quality of the surrounding teeth. Implants can be used when you desire restorative dentistry that does not affect the surrounding teeth or to provide a more secure denture.
Implants procedure
At the dental office of Dr. Aryan in Pacific Beach, San Diego, dental implants procedures are performed by Dr. Sonny Aryan. The doctor will consult with you and, if it is determined that a dental implant is a good choice, an appointment will be scheduled with Dr. Aryan. If your jawbone is adequate and you have healthy gums, you are an ideal candidate for dental implants. Dr. Aryan will work with you to insure that your implant and  restorative dentistry return your mouth to natural form and function. When completed, the dental implant will not limit you in any area of speech or diet and no one will ever know that you have a replacement.
Implants can be a permanent solution for a whole array of tooth or teeth ailments. As with any minor surgery, considerations for or against implant dentistry should be weighed out with the consultation of your dentist. Proper decisions for your dental care should be discussed with your qualified dentist.
Call  Dr. Aryan, San Diego dentists now to set up an appointment for dental implants.