Dentist San Diego, Pacific Beach, Mission Beach
CALL US AT (858) 270-6626
Dental Bonding San Diego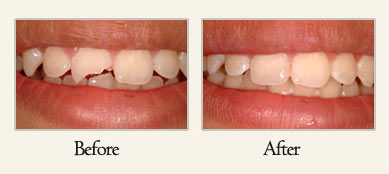 Dental bonding is an alternative solution to repair chipped, cracked, or discolored teeth. The process requires less time than the application of porcelain veneers and, depending on how many teeth are being repaired, can usually be completed in one visit.
Bonding involves applying a composite resin (a while colored dental filling material) to a tooth to alter its appearance. Dental bonding can be used to improve the appearance of a defect on the surface of a tooth, to replace a chipped or broken tooth, or to repair damage caused by tooth decay. It can also be used to resurface the entire front side of a tooth to improve its cosmetic appearance.
Dental bonding, also known as composite or tooth bonding, is another way to fix cosmetic and structural imperfections in the teeth. When compared with other cosmetic dental procedures dental bonding can be relatively inexpensive. One disadvantage of dental bonding is that it can stain over time and in general isn't as lasting or durable as other cosmetic dental procedures. However, if dental bonding chips or breaks it can usually be easily patched or repaired.
Prior to the procedure, Dr. Aryan, Dentist Pacific Beach, will select a shade of the resin that matches the color of your teeth. After the bonding material has been applied, the tooth will be shaped and polished to complement the size and finish of your surrounding teeth, leaving you with a beautiful new smile.
Contact Dentist pacific Beach san Diego now to learn more about dental bonding and how it can help reshape your smile.